Customer Care
Our range of vehicles enable us to give you exactly the space you need for your move, so you are not paying for space you don't need or have to wait around doing several trips.
---
Our experience will enable us to estimate what your belongings will be like packed to make the best and safest use of space in each vehicle.
---
All our staff are our own employed staff that we have known over a number of years, they are courteous and helpful, we do not employ agency staff.
---
Our quotations are free – no pressure sales, we know what a stressful experience it has been to get this far! A quick check is all that is necessary to ensure any items that need special handling are noted and the correct van can be booked. Noel, one of the owners, will give you a price then and there and leave his number for you to contact him should you wish to proceed or ask further questions. He can give you a price to cover everything you discuss and also help jog your memory – no nasty surprises on the day when you suddenly remember all the stuff in the loft and the van is full!
---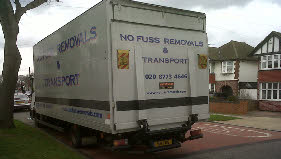 Packing, probably the worst thing about moving! "I haven't got much to pack" you say, but start to think about it and the list becomes endless; things that should go together never seem to fit together, and the boxes from the supermarket are either too big, too small or too flimsy! We can provide specialist removal boxes and packaging but why not take all the stress out of it by leaving the job to our experienced packers who will pack your possessions efficiently and safely, ready for transportation.